AccoladePOS Products
Simply put, you want your point of sale system to be powerfully capable, yet simple, friendly, easy to use, and just as important, reliable. A helping hand that thinks like you do especially when you're not there to manage your business. The AccoladePOS families of products do just that. They seamlessly combine front of the house activities such as order entry, table service control and delivery with back of the house functions like real time inventory, purchasing, food preparation and employee controls. Nothing is left to chance or estimation. Every action causes a predictable reaction. Using tightly integrated event driven modules, every condition is accounted, every variable is controlled. And when we say 'Real Time' we mean just that. No need to wait till the end of the day to see costs and profits, just ask AccoladePOS and instantly know your sales, food costs, labor costs, inventory balances, driver and labor efficiency among other heart beat tracking components measured and reported to the instant you ask for the numbers.
Ordering Consistency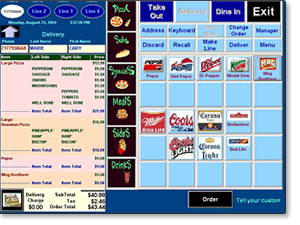 When it comes to order entry, there is no substitute for speed and accuracy. Our designers have achieved both. The ergonomically designed touch screen layout provides a fast response with a minimum of key strokes. Caller ID and Customer name and phone number are both displayed on the main screen. That means no need to flip back and forth between screens which can cause confusion and take time. Since our system is specifically designed for the Pizza industry, our video order pad provides both a left side, right side display of Pizza topping choices. A pop-up panel automatically prompts for the right selection on toppings. And, we use real words, not codes to describe toppings, further increasing employee recognition of the order and eliminating mistakes. Start with crust size first and add toppings or start with toppings and then add the crust, our order entry system accommodates any work flow choice. You can even change pizza sizes without re-entering the toppings. And menu choices buttons may be linked together to provide a one touch entire meal selection with order flow prompting. For promotional reminders, our scrolling prompt helps employees remember to promote featured items and specials.

return to top
Video Integration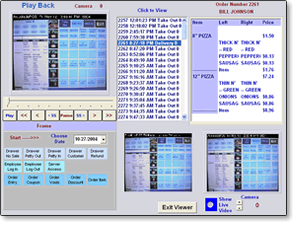 If security is a concern our optional video security module is a must. Use it to track theft, customer fraud and to record business operations. Since it is tightly integrated to point of sale, cashiering, and employee time clock functions, you can replay any event at the touch of a button. Simply search and find a cashiering event, tell the system to display the video and see a clear, crisp replay of the transaction. We even display the customer ticket for comparative side by side viewing of the operation. Or check an employee clock-in. Since you can easily view each employee as they clock in or out, you can virtually eliminate buddy clock-in and payroll fraud. Have a question about a coupon; we record each coupon transaction to provide a visual record of the coupon exchange. How can you use this powerful system? We bet you can think of several ways already. Even remote view your store from home or laptop computer with internet access.

return to top
Make Line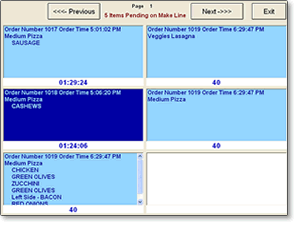 At the heart of the kitchen process is our powerful Video Make Line system. While AccoladePOS powers multiple kitchen printers with item designated routing, efficiency may be further improved using our video make line interface. Up to six make line stations are supported with item selectable routing. Send pizza orders to your pizza make line table, cold sandwich line orders to your deli table and salad orders to the salad station. Drink and beverage requests may also rout to up to two bar printers. Make Line screens also continuously report vital statistics such as load times and item counts in fifteen minute intervals, as well as daily production efficiencies. Using this information, a manager may quickly reallocate kitchen personal responsibilities in order to maintain acceptable processing times. Features include continually updated make line item time periods, visual notification of order modifications, visually coded order types, and processed order status.

return to top
Assign and Deliver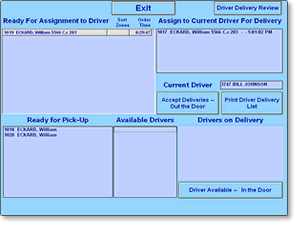 If the ultimate goal of your pizza business is timely and efficient delivery of a quality product to your customers, then you will want to use our comprehensive delivery tracking system. Customer delivery orders are conveniently displayed and assigned to delivery drivers. Assignments to drivers may be made based on next driver available, driver delivery zones, or as a specified assignment. Drivers are constantly monitored by the system which reports time and delivery efficiency. A complete driver cashiering system accompanies this module which provides customer check tracking and coupon tracking as well as driver bank advances and deposits. Driver remuneration may be paid using four different systems based on mileage, per item, flat rate, or a percentage of order amounts.

return to top
Back of the House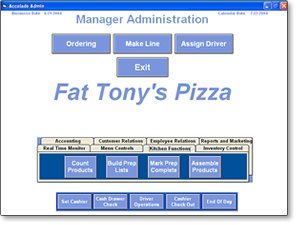 Simple or Complex, it is up to you. Our AccoladePOS family of Point of Sale systems provide flexible configuration. While the entire system may be tightly integrated to provide up to the minute inventory control, purchasing, product control and accounting functions, these functions and modules may be turned off or on as your requirements dictate. The point is, keep it simple. If you don't wish to track inventory, turn it off, if you don't want to place purchase orders, turn them off. The same goes for receipt printing, make line monitors, kitchen printers, caller ID functions, and delivery operations. Each may be active or in-active as your requirements demand. You'll find programming your menu on our system just as easy. You will never be asked to assign numbers to items, to remember item names or codes, or to refresh the system to see your results. Just make your changes and instantly verify the new menu operation. Multiple tax methods, multiple discount options, programmable discount tables, multiple revenue center reporting, a coupon builder, these are just some of the outstanding features of this advanced system you will want to use in your restaurant.

return to top